Pure Gelato Good to Be True.
Become a VIP member and earn $$$
Here at Pure Gelato, all our customers are welcomed as friends, but sometimes everybody wants to give a little something extra back to those loyal friends who keep visiting us again and again.
That's why we've launched the Pure Gelato VIP Loyalty Program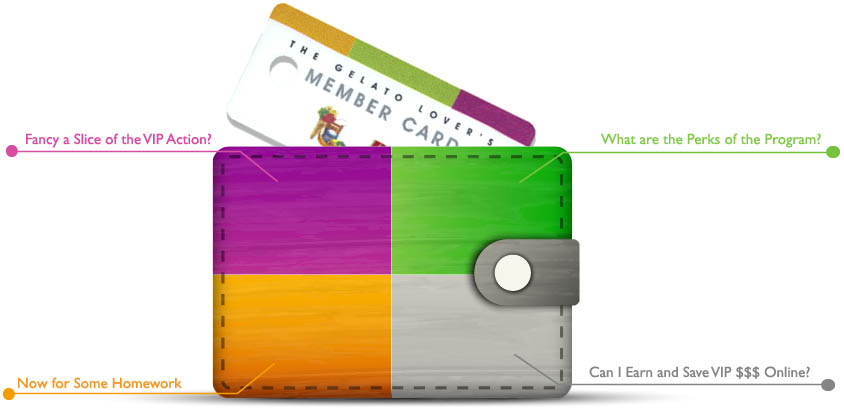 Fancy a Slice of the VIP Action?
Ok, we thought you would. So here's how you join. Next time you visit us in store, and make a purchase, one of our team will ask if you'd like a VIP card. This is your big chance to say, "Yes. Yes, please. Yes, I would." We'll take a few registration details from you, most importantly your email address, and that's it – stage one is complete. Go enjoy your gelato…
Now for Some Homework
Right, so you've completed stage one. You're probably already planning your next gelato, but before all that… Shortly after visiting, you'll see an email from us pop up in your inbox. If you don't have it after 24-hours, check your junk email. We're not spam; we're delicious, scrumptious gelato. How rude!
Fantastic! What are the Perks of the Program? We're glad you asked…
1. The email (wherever it is) will ask for a few more registration details and for the number on your VIP card.
2. Fill in the details; hit the send button and 'Hey Gelato', as if by magic, you'll automatically become a VIP member.
3. For every $50 you spend in our store, we'll reward you with an extra $1 balance on your VIP card – so always remember to bring your card with you.
4. You can use your balance to grab something tasty anytime you like or you can keep on saving $$$ until one day we simply hand you the keys to the store and wish you luck in your new business. And there are additional VIP toppings too:
Benefit from access to special sales and offers, only available to VIP members

Enjoy our Rainy Day specials – with 20% off 1&2 litre pre-packed gelato tubs
Can I earn and save VIP $$$ online? Whoa! Slow down.
At the moment, it's not possible to earn and spend VIP $$$ online. But we're working hard on changing that, so keep an eye on this page and our regular newsletters for updates. As a VIP Program member – you'll be the first to know. And for the time-being, if we're being totally honest, we love to see you visiting us in our store anyway.