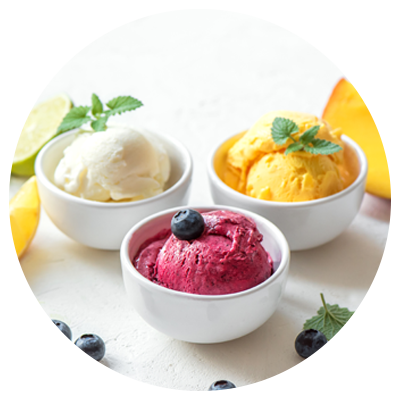 Lactose Free Gelato Cakes. Now you can enjoy an amazing selection of yummy gelato flavours … WITHOUT LACTOSE!
As you might suspect, a lactose-free cake or diet means eating foods that contain no lactose. As whole milk is an important constituent part of gelato, you might think that a lactose-free diet means that gelato is out of bounds, but here at Pure Gelato we offer a number of lactose-free desserts.
Obviously our pure fruit range is free from lactose. Our pure fruit gelatos are jam-packed with juicy, fresh fruit and come in a wide range of mouth-watering flavours – from kiwi to strawberry, from boysenberry to lychee, mango, blood orange and green apple.
But we also do a range of soya-based gelatos that are gluten-free cake, such as soya-based chocolate, soya-based hazelnut and soya-based vanilla bean. Soya-based desserts offer the same kind of creamy mouthfeel as gelatos that use whole milk, which contains lactose. If you are seeking that full, creamy taste, then a soya-based gelato is the perfect choice.
In addition, soya has a number of nutritional benefits – it is high in protein, vitamins, minerals and insoluble fibre. Its high protein content makes it a popular choice for people following vegetarian and vegan diets, as well as those who need to avoid lactose in milk products.
Chocolate-based desserts can sometimes be out of bounds for those following a lactose-free diet, but we do also produce chocolate gelatos that are made without lactose-containing ingredients.
There is our chocolate sorbet gelato for a start, as well as the soya-based chocolate gelato and if you fancy a little decadence in your dessert, opt for the champagne or sangria sorbets.
If you want to score a double diet whammy, eliminating sugar as well as lactose, then our diabetic lemon and diabetic mango gelatos score off those two ticks.