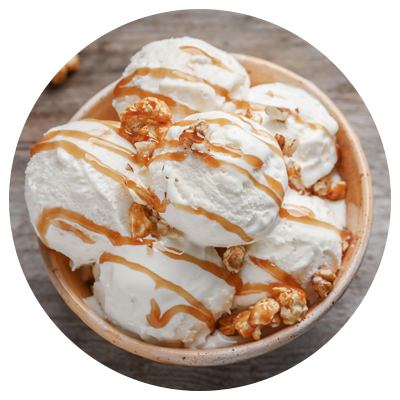 Egg Free Gelato Cakes. Now you can enjoy an amazing selection of yummy gelato flavours … WITHOUT EGGS!
Not an egg-head?! No problemo. Here at Pure Gelato, we offer a number of egg-free gelatos cakes* especially for those who need to avoid eggs in their diet. Here at Pure Gelato, we have a passion for gelato and we want our award-winning products to be available for as many people as possible, including those following egg-free diets or people who are just avoiding eggs in their diet in general.
Egg allergies can be common among children (thought they often resolve as children get older) but if you do have an allergy to eggs it is important to avoid eggs and food products made with eggs. Eggs are used extensively in cakes, puddings and desserts so it can be something of a challenge to find egg-free desserts that are suitable for egg-free diets. The egg white is mostly responsible for egg allergies, but because the egg white and egg yolk are housed together, then people with egg allergies should avoid the egg altogether.
There are plenty of gelatos to choose from. If you are a fan of the sweet and creamy dessert option, then many of our caramel-flavoured gelatos are egg-free – such as the caramel, caramel macadamia, caramel popcorn and caramelised fig egg-free desserts. We make our gelatos with care and attention, ensuring they are expertly mixed and churned to give you a product that is smooth, creamy and delicious – who needs eggs?!
Our caramel flavoured gelatos are delicious served with griddled or barbecued fruit, a double dessert possibility for someone who needs to follow an egg-free diet. Or why not go the whole hog and drizzle your caramel-flavoured gelato with chocolate sauce? Mmm hmm…
There are other choices too. Our other egg-free pudding options include our almond varieties – the almond and carob, and Amaretto (roasted almond) as well as our Amareno (cherry ripple) egg-free gelatos cakes.
For the chocolate lovers out there, we have deliciously decadent chocolate choices, our Bacio (chocolate and hazelnut) and our banana choc chip gelatos offer up further egg-free pudding options.
Of course, many of our pure fruit gelatos are egg-free too – blood orange, blueberry, pineapple and peach, and kiwi, strawberry, lemon and lime gelatos are bursting with pure fruit flavours and a delicious option for anyone following an egg-free diet.