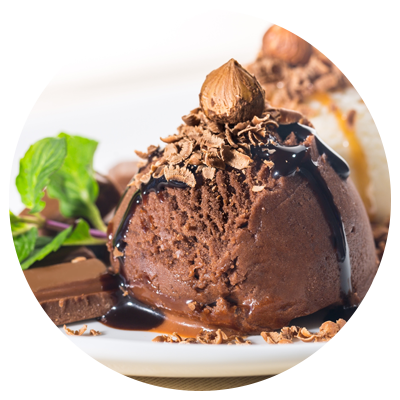 Gluten Free Gelato Cakes. Now you can enjoy an amazing selection of yummy gelato flavours … WITHOUT GLUTEN!
Whether you've been diagnosed with coeliac disease or you have a gluten or wheat intolerance, gluten-free desserts can be a bit of a minefield.
People choose gluten-free eating for a number of reasons. If you have been diagnosed with coeliac disease, it's vital that you steer clear of any foods that contain gluten.
Forms of gluten are often used in desserts – cookies, cakes and pies are the obvious culprits, but wheat-based products are often used as fillers and thickeners in less obvious things such as the custards and sauces that are can be used to make ice-creams or gelatos.
Here at Pure Gelato, we understand the dietary considerations needed for gluten-free eating and we have a number of products that are gluten-free. The fact that many of them are absolutely delicious too is a huge help, making it much easier to stick to a gluten-free diet or regime. Knowing that there are sweet treats that can safely be consumed on a gluten-free diet can be such a boon.
Fortunately, Pure Gelato has a number of gluten-free gelatos you can choose for an easy dessert option. Our range of pure fruit gelatos are jam-packed (forgive our fruity pun!) with delicious fruity flavours, such as blueberry, boysenberry, pineapple, peach, kiwi, lemon, lychee and strawberry. No room for any gluten there and the perfect, refreshing way to finish off a meal.
Our pure fruit sorbets are perfect served with warmed, gluten-free cakes and sponges or why not pack them into hollowed out oranges and lemons?
Other gluten-free desserts available from Pure Gelato aren't just limited to fruit flavours though… if you are a chocolate fiend, Pure Gelato has got your back. Gluten-free chocolate gelato cake options include Bacio (choco-late/hazelnut), chocolate sorbet, chocolate and the deliciously decadent chocolate fudge flavour (which is a real winner when served with fresh raspberries or strawberries). Mmm-hmm!
Don't let a gluten-free diagnosis deter you from dessert. Pure Gelato's got it covered…