What Are Ice Cream Cakes Made Of?
You may have indulged in an ice cream cake within a past celebration you attended. Ice cream cakes are a type of cake which consists of layered ice cream, sponge cake and even cookie crumble. Like the ingredients used in a normal cake, the ice cream cake ingredients use a sponge cake base which is baked and cut to the shape of the cake and then frozen. Likewise, the ice cream is shaped like the sponge to be layered while frozen. A frosting is typically added to balance the two different textures. The entire cake is then frozen before serving, for the ice cream to thaw and soften so it can be sliced easily but not to the extent where the ice cream has melted.
Ice cream cake is a popular party dessert, during birthday and wedding celebrations it is commonly used as the birthday and wedding cake. Mainly in America and Australia, Sydney ice cream cakes and gelato cakes as a dessert and in cakes are widely adored.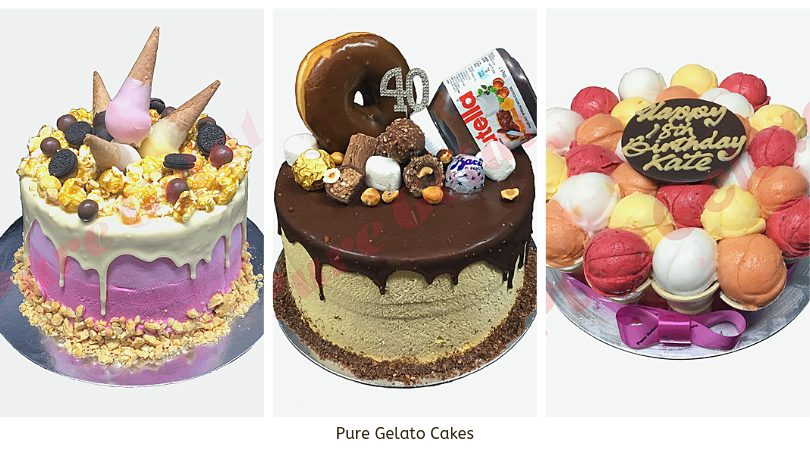 Ice Cream Cakes
Ice cream cakes consist of between 10 percent and 16 percent butterfat. Ice cream is very high in fat content due to the amount of butter and cream used, however due to the high-fat content and large volume of air that is churned when making the ice cream, while it is freezing this generates a great level of creaminess. This high amounts of fat and air is what distinguishes ice cream cakes from gelato cakes. Additionally, when ice cream is labelled as frozen dessert, this entails that the ice cream has been made with vegetable oil and it technically not ice cream. This type of ice cream 'frozen dessert' is not ideal for ice cream cakes.
Gelato Cakes
Gelato has a strong and vibrant flavour and is served slightly warmer than frozen comparable to soft serve ice cream. Italian gelato is denser than ice cream since it is less airy due to the slow churning when making gelato. As a rich, dairy based dessert with less fat than ice cream, Pure Gelato gelato cakes are made entirely of different layered gelato with fresh fruit, nut butter and herbs. Typically served at a slightly higher temperature than ice cream which creates a thicker and smoother texture.
Pure Gelato Ice Cream Cakes and Gelato Cakes
You may have noticed, many cakes and desserts have a common base, whether it be a sponge cake base with a specific flavour added to it. Ice cream cakes and gelato cakes have a dairy milk base. At Pure Gelato, we don't believe in bases. Why should everything be the same? There's a reason we offer over 150 gelato flavours with a massive range of different ingredients and flavours. We mix fresh fruit with natural fruit sugar to produce a soft and organic frozen dessert with no base. We push the boundaries of frozen dessert, making gelato cakes entirely from a range of different natural flavours which you an choose from. Check out our Flavour List with over 150 different natural flavours. If you have special nutritional requires, you can also view our Nutritional Chart to find a delicious flavour that caters for your nutritional requirements.
Forget about ice cream cakes and its high fat contents, indulge in gelato cakes guilt free! With our range of vegan, preservatives free, dairy free, sugar free and gluten free flavours which have been sweetened with natural fruit sugar. Ice cream cakes don't have to be unhealthy when you have gelato cakes. Shop online or visit our Sydney Pure Gelato store.